A free, fun fitness challenge for ages 8 and up! Everyone welcome regardless of where you live or fitness level.
Why Participate?
Win great prizes – 1st, 2nd, 3rd place for the most miles.
Drawings from those completing the challenge.
Receive tips on fitness, recipes, stress, videos of favorite walking spots, etc.
All fitness activities count toward miles.
Invitations to group activities.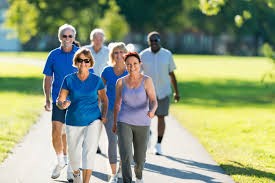 Guidelines:
Everyone eligible regardless of fitness level, location or age.
Invite friends, family, co-workers, etc.
Register them & log their weekly miles for those without email.
Track your individual "miles" & log them weekly.
Receive weekly email reminder & easy link for recording miles.
Use the Mileage Calculator to convert biking, yard work, dancing, stretching, yoga, etc. to miles.
Count all daily steps & activities – 2,000 steps equals 1 mile.
Winners will be notified about picking up prizes.
Helpful Mileage Tracker to keep up with your miles each week.