Public Speaking
Participation in the public speaking project is meant to build communication skills, confidence, and self esteem. School and community group public speaking projects are normally conducted during the fall with the county wide event held in January. Multi-County contests for 5th-8th grades (separated by each grade level) are generally held in late February, while 9th-12th grades (separated by each grade level) regionals are held in early February. Event deadlines will vary by year. Please contact the Extension Office (423-855-6113) for updates on deadlines. 
Guidelines for the speeches include: 1) Must have an introduction, body, and conclusion 2) Props or posters are not allowed 3) Participants should use index cards, have good eye contact, speak loudly, have good posture, and not go over the time limit 4) The speech can be on any topic; however 5th – 12th graders must mention 4-H in their speech.
Time limits by grade level: * 4th grade speech should last up to 3 minutes * 5th grade speech should last up to 5 minutes and also mention something about 4-H * 6th to 8th grade speech should last up to 7 minutes & mention something about 4-H * 9th to 12th grade speech should last up to 7 minutes & mention something about 4-H. Senior high participants will also be asked to give an extemporaneous speech in addition to the up to 7 minute prepared speech.
Demonstrations and Interactive Exhibits
Demonstrations (4th-5th grade) and Interactive Exhibits (6th-8th grade) are a fun, educational hands-on approach to learning and teaching for students. Fourth and Fifth grade participants are asked to conduct an up to three to five minutes educational hands-on show and tell "how to" demonstration. Participants use pictures, posters, or displays to conduct a presentation for the class, group, or judge illustrating a skill, hobby, or other interest related to a 4-H project. The demonstration may be on anything that is educational; for example, how to do a favorite activity, past time, or hobby.
Guidelines for the 4-H Demonstration include: 1) The speech along with the demonstration should last up to 5 minutes 2) Participants will need index cards, but may also use visual aids (including posters, pictures, hands-on supplies) 3) Have good eye contact, speak loudly, have good posture, and not go over the time limit 4) Write an introduction, body, and conclusion for your presentation. Club contests are generally held in February. The Hamilton County Contest is generally held in March, and the Multi County Contest is held in May.
Sixth, Seventh and Eighth graders construct a tri-fold display board related to a 4-H project. They present information using the board. The board may include photos, steps, materials, and items that can be displayed on the table in front of the board. Time limit is up to 5 minutes.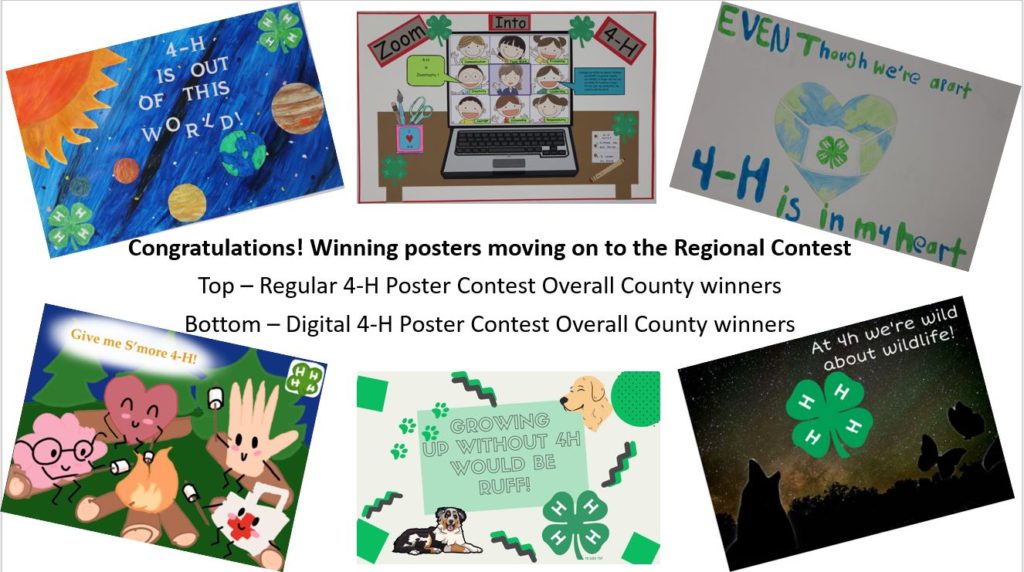 4-H Art Poster Contest
This activity offers youth the opportunity to display their artistic talents, given a themed topic or subject. 4-H Art Poster submissions are due to the Hamilton County 4-H office in February. Hamilton County will submit three entries by grade level to the Eastern Region for judging on the state level. The state will select 10 winners which will be displayed at State 4-H Congress.
RULES: (Full rules at https://4h.tennessee.edu/state-4-h-congress-award-programs/4-h-poster-art-contest/) a. Posters may be made by any 4-H'er grades 4th-12th. b. Posters may be horizontal only. c. Posters on posterboard must be 14 x 22 inches. d. Name, address, county, email address, grade and age should be clearly written on the back of each poster or turned in with digital entries. e. 4-H is to be the topic for the poster. f. Well known cartoon figures cannot be used because they are copyrighted (Peanuts, Charlie Brown, etc.) g. 3D objects or materials which extend 1/8 inch or more above the surface of the poster may not be used. h. The 4-H emblem should be used on the poster; do not place text or other image on top of it. The 4-H emblem should not appear screened under words or graphics. No photo, drawing, symbol, word or other figure or object may be placed on or obscure the 4-H emblem.
4-H Piggy Bank Pageant
Participating in the Save, Share, and Spend program encourages youth in K-12th grade to set savings goals and strive to achieve those goals. Through the Tennessee Saves 4-H youth initiative, participants will come to understand that saving money at an early age can contribute to responsible money management into adulthood. In addition to gaining a better understanding in the difference between needs versus wants, participants will have an option to use their creativity to construct a piggy bank that can be entered in the county contest in March. Awards are also offered at the State level in the Piggy Bank Pageant.
Dairy Poster Contest
Entries can be digitally created (must be saved as a jpg and emailed to HamiltonCounty4H@tennessee.edu) or created on 14 x 22 posterboard and turned in to the Extension office by the deadline. Entries must focus on the current year's theme
Every 4-H'er entering the contest will receive dairy-themed "goodies," including pencils and bracelets. The County winner will receive a t-shirt with this year's theme. State winners will receive $550 (1st place), $300 (2nd place) and $200 (3rd place). Winning posters will be in the possession of the Dairy Alliance for one year to use for display and promotional purposes and then will be returned to the students.
Clover Bowl
What is the Tennessee State Flower? What is the study of living things? What do snakes smell with? What are the 4-H colors? What is minimum age to obtain a Tennessee driver's license? The town of Ross's Landing changed its name in 1839 to what? How many feet are in a mile? How do honeybees communicate? If you can answer those types of questions then you may be ready to take on the educational challenge of the 4-H CLOVER BOWL!
Fourth to eighth grade 4-H members from all over Hamilton County can have the opportunity to represent their school/community group in 4-H's very own jeopardy style quiz game. The purpose of the Clover Bowl is to acquaint 4-H members with themselves and their surroundings through participating in an enjoyable and educational program. In addition to this main purpose, it is hoped that the 4-H Clover Bowl will help participants develop leadership, teamwork, and communication skills along with learning more about Tennessee History, government, agriculture, 4-H and more! ​
Participants are given the questions and answers to study for the school, county, and regional competitions. Questions used in Clover Bowl contain content from curriculum and state standards from educational subject areas that are taught in Tennessee schools.
Information for questions comes from the topic areas of Tennessee (Geography, History, and Government), 4-H, Family & Consumer Sciences, and Agriculture. School and community group competitions are generally held throughout March with the county competition being held in April. Winners of the county competition by grade level will then advance to represent Hamilton County at the Regional Competition in Knoxville on the campus of The University of Tennessee at Knoxville which is generally held in May.